PVC Railings
PVC railings (Vinyl) are a smart choice for those who want to beautify their home and eliminate the need for the annual maintenance that is required for wood products.
The Advantages of PVC Railings
Durability

First of all, we start with PVC which will never rot, crack, fade, split, or warp.

Our Rails are engineered for strength

We extrude our rail system components in compliance with ASTM (F-964-94).

We make all of our components with the highest quality ingredients.
Our rails look great, but the engineering inside makes them perform great too.
Phoenix Rail uses a unique and patented webbing inside the Alzar T-Rail to add strength.
Furthermore, we've also added an aluminum stiffener in all railings 5′ and over, as a result, our products perform better.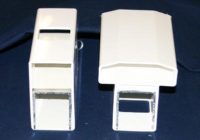 Our PVC rails have the maximum sun protection

Our PVC rails and components contain the maximum amount of TiO2.

Titanium Dioxide (TiO 2) is the compound that protects the rail from the UV rays.

Plus our PVC Rails are co-extruded so that the TiO2 is on the outer layer.
Most noteworthy and all you need to know is that our PVC rails and components will never yellow. It's guaranteed!
We offer limitless styles, options and sizes.

At Phoenix, we go beyond the ordinary and take PVC railings to a higher level by providing durable products with limitless styles.
We can customize height of rails or/and baluster spacing as needed.
Phoenix prioritizes high standards and safety.

Our standard rail kits have approximately 3″ spacing between the balusters.

Easy to install to reduce labor costs

Our standard rail kits come knocked-down, with loose balusters and pre-routed top and bottom rails. This makes installation a breeze; the balusters slot right into the holes, no screws needed!
The Phoenix system saves time on installation, reducing labor cost and keeping money in your pocket while still providing a beautiful product.
Our PVC rails have a lifetime, transferrable warranty.
Product Details
STANDARD RAILING KITS:
Traditional – T-Rail, 2″ x 3-1/2″ bottom rail, Square, Colonial balusters or 4″ Glass Panels
Conservative – 2″ x 3-1/2″ top & bottom rail, Square, Colonial balusters or 4″ Glass Panels
Waterford – T-Rail, 2″ x 3-1/2″ bottom rail, Sub Rail with every other Square baluster to top rail
Spider Web – T-Rail, 2″ x 3-1/2″ bottom rail, Spider Web design with square balusters
Patriot Sub Rail – Customize your Traditional or Conservative Railing Kit with a Mid Rail
(works with Square baluster designs)
Gate Kits
Add a gate kit to your railing system to keep your space enclosed. Self-closing hinges and latch are included with each kit.
Available in 3′, 4′, 5′ Wide Sections
Available in 36″ or 42″ heights
Gate Kits can be trimmed both in height and width to fit openings
Styles: Traditional, Waterford, Custom Designs, Excel, Patriot Sub Rail, Glass (no 5' kit in Glass)
Choice of Square, Colonial, Glass Balusters or Round Aluminum Balusters – Black, White, Bronze
Size of gate opening can be doubled with the addition of a drop rod
Aluminum gates are also available.
Adjustable sizes, up to 40″ Wide x 34″ High
Ask us about our custom welded gates
1 – 1/2″ Round Secondary Handrails
Round Secondary Handrail is a simple and functional attachment for any Phoenix PVC or Aluminum system. It is ADA (Americans with Disabilities Act) Code Compliant for graspability and offers both safety and comfort while moving up or down stairwells or ramps.
Round Handrail is 1-1/2" in diameter (outside dimension)
Round Handrails can mount right into railing posts or a nearby wall

Alternatively, each handrail section can terminate in a smooth, rounded end loop

Spans of 80", 104" or 120" are available

Spans can be even longer through the use of an internal joiner

Mounting brackets required every 5 feet
External joint rings are used at all connections to conceal the continuous aluminum interior
White Vinyl and Black Aluminum are stocked

Almond Vinyl, White Aluminum, and Bronze Aluminum can be special ordered