Glass Panel Railings / Glass Balusters
You found the perfect house with a view of a bay, an ocean, a pool, a winding river, a city skyline or a mountain range. In fact, you probably paid extra for that view, but it was worth it. Get the most out of that view with Phoenix Manufacturing Glass Panel Railings. Glass Panel Railings give decks, porches and balconies a high level of sophistication, modern elegance and an unobstructed view of sunrises and sunsets.
Safety Is A Priority

Phoenix Glass Panel Railing systems incorporate 4" wide tempered glass panels into our sturdy PVC railings systems

.

Durability Is A Goal

The glass balusters are integrated into Phoenix Manufacturing durable and maintenance free top and bottom vinyl PVC rails.
You can also incorporate glass balusters into our durable, yet beautiful mahogany top rail collection

 like this house did.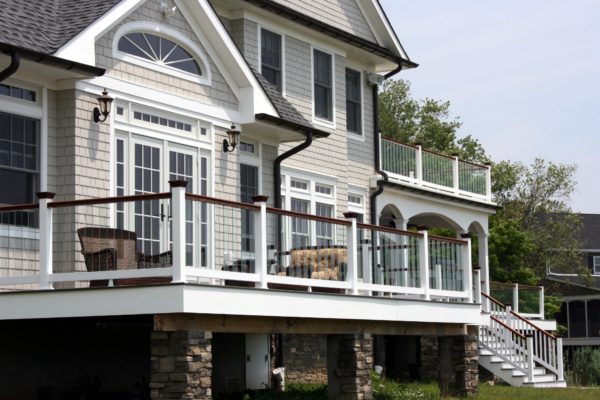 Light It Up

When the sun sets, light up your glass panel railings with our built-in low voltage LED lights to make your deck the focal point at night too.
Please see our Ambience Railings ®.
RAIL KITS INCLUDE 4" WIDE TEMPERED GLASS BALUSTERS
Height: 32" (for 36" High Rail) Width: 4" wide x ¼" thick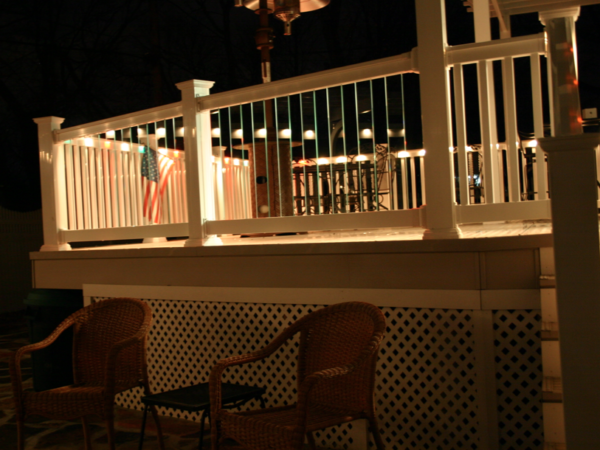 Gate Kits
Add a gate kit to your railing system to keep your space enclosed. Self-closing hinges and latch are included with each kit.
Available in 3′, 4′, 5′ Wide Sections
Available in 36″ or 42″ heights
Gate Kits can be trimmed both in height and width to fit openings
Styles: Traditional, Waterford, Custom Designs, Excel, Patriot Sub Rail, Glass (no 5' kit in Glass)
Choice of Square, Colonial, Glass Balusters or Round Aluminum Balusters – Black, White, Bronze
Size of gate opening can be doubled with the addition of a drop rod
Aluminum gates are also available:
Adjustable sizes, up to 40″ Wide x 34″ High
Ask us about our custom welded gates
1 – 1/2″ Round Secondary Handrails
Round Secondary Handrail is a simple and functional attachment for any Phoenix PVC or Aluminum system. It is ADA (Americans with Disabilities Act) Code Compliant for graspability and offers both safety and comfort while moving up or down stairwells or ramps.
Round Handrail is 1-1/2" in diameter (outside dimension)
Round Handrails can mount right into railing posts or a nearby wall

Alternatively, each handrail section can terminate in a smooth, rounded end loop

Spans of 80", 104" or 120" are available

Spans can be even longer through the use of an internal joiner

Mounting brackets required every 5 feet
External joint rings are used at all connections to conceal the continuous aluminum interior
White Vinyl and Black Aluminum are stocked

Almond Vinyl, White Aluminum, and Bronze Aluminum can be special ordered